Brewery wastewater is special in many ways. Due to the high proportion of readily available carbon, the low proportion of nitrogen compounds and the purity of the raw materials, brewery wastewater is more suitable for fully biological treatment than almost any other! Our anaerobic microorganisms living in the fixed bed also appreciate your wastewater: with only 6-8 hours retention time and an unheated inlet temperature of just 20 ° C, they are bursting with satisfaction!
Our system at the Schönram brewery shows the high potential for savings and the high profitability of this process. Within a short time, 70% excess sludge and 153,120 kg CO2 per year could be saved.
The sewage treatment plant of the private country brewery Schönram reached its capacity limits due to the strong demand for the high-quality beers and should initially be expanded. But in addition to the large amount of land used, the expansion of the sewage treatment plant would also significantly increase operating costs. Because the aerobic microorganisms consume compressor energy by supplying oxygen and bind the wastewater pollution in activated sludge, which is expensive to dispose of. In contrast, the microorganisms that live in the absence of oxygen behave quite differently. They have the ability to break down up to 90% of the organic matter in the wastewater into high-quality biogas in a multi-stage process chain, which can be fed into the brewing process as a primary energy source. So the enthusiasm was great when the Schönramers came across the anaerobic fixed bed reactor from FlexBio, and the solution was found: With the anaerobic pre-cleaning, the pollution load is reduced to such an extent that the capacity of the existing sewage treatment plant is sufficient again. Increased cleaning capacities with lower operating costs – simply FlexBio!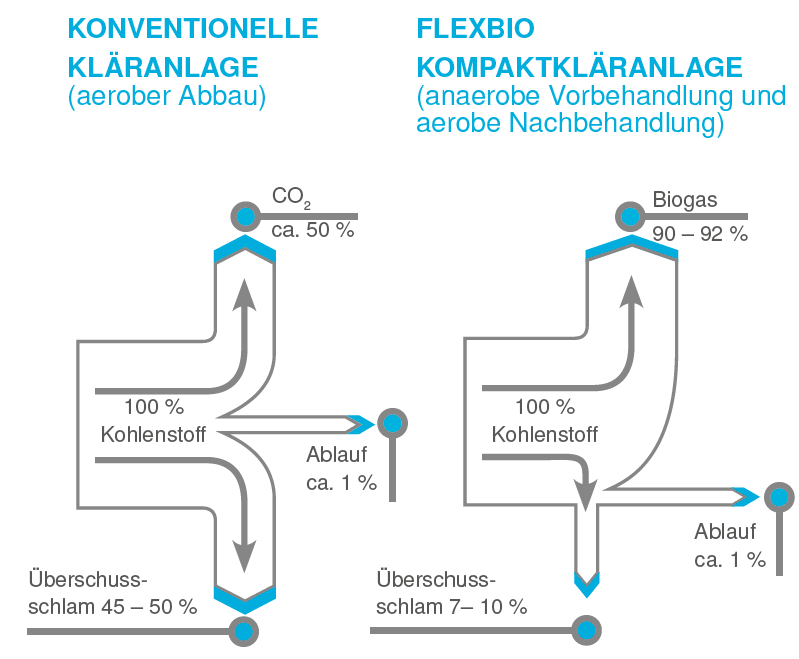 Learn more about that Savings potential and our reference in Schönram in our reference report: