Water – the most valuable resource and cornerstone of life
The water is the most valuable resource on our planet. Although around 70% of our earth is covered with water, fresh water supplies are finite, which is reflected in the sinking water table all over the world. To cope with this shortage, we have to be careful with our water, for example by cleaning and recycling the wastewater. The reuse of contaminated water can be so efficient and environmentally friendly, which also reduces fresh water consumption in the long term.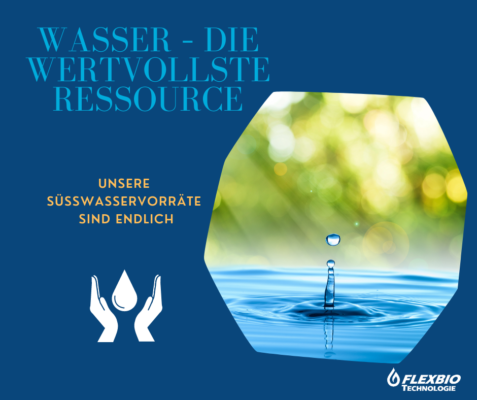 How exactly does recycling work in companies?
In the production of goods such as food and beverages arises in numerous Process steps Sewage. Many companies are not aware that this is water at the same time Thermal energy and chemically bound energy (organic substances). Around Use energy source , FlexBio has an effective and inexpensive method for the preparation and for the Recovery of raw materials from wastewater developed.
With the help of our wastewater treatment plants, we can use the A Maximize the amount of water by recovering the energy, nutrients and organic matter and creating clean, reusable water. The degradation of organic pollution of the sewage and Biomethane production takes place with the exclusion of oxygen in a unique High performance reactor instead of. In a further new treatment stage (combination of Anaerobic technology and membrane bioreactor ) the dirt and pollutants as well as microparticles / microplastics are removed from the wastewater.
The water is at the end of the process hygienically perfect and can be fed back into the water cycle. We use the contaminated water as a valuable resource and use it for the production of regenerative energy on. So we take over in every respect Responsibility for the environment and thanks to our technology can also reduce our customers' resource consumption. On the one hand, through the use of our sewage systems, the Energy balance of a company improved and on the other hand becomes a Lower operating costs enables.