FlexBio Technologie GmbH, location opening and new move in Einbeck
Finally the time has come; In June, after a construction period of 18 months, Flexbio Technologie GmbH moves into the newly built production hall with administration wing in Einbeck, in Otto-Hahn-Straße 7a with around 35 employees. The Göttingen, Gittelde and Northeim locations are merged here. The newly built building has a total of 900 m² of production space, 300 m² of storage space and 450 m² of administrative space. Overall, the production hall has enough capacity for around 100 wastewater treatment plants per year. Choosing the Einbeck location was a conscious decision, because the management has its roots here.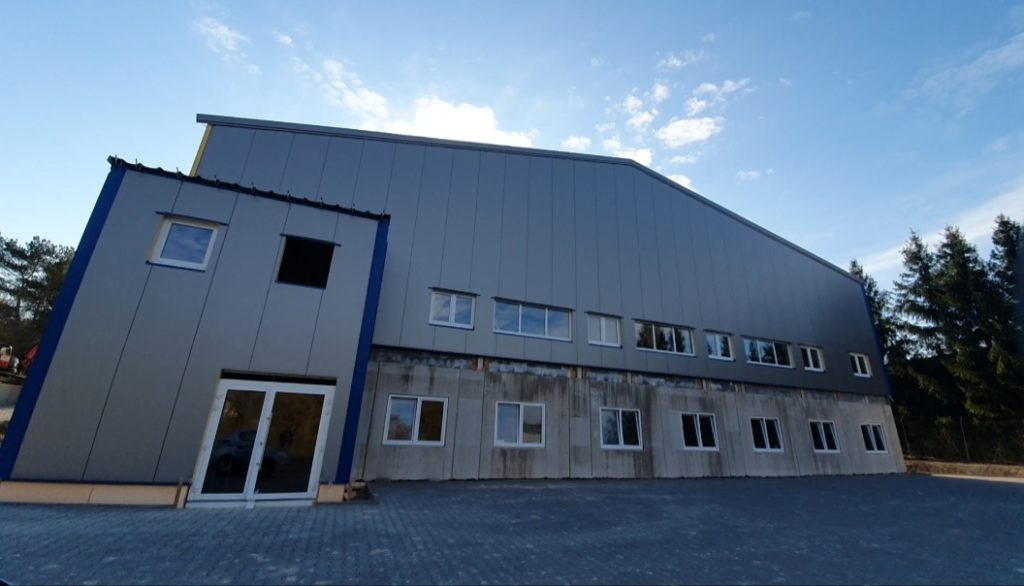 The opening of the location is an important step into the future for FlexBio. As an innovative green tech company, they focus on growth and global market leadership in autonomous solutions for water purification and water recycling. The innovative FlexBio process enables many companies to handle wastewater in a sustainable manner and to use the energy it contains. The contaminated water is cleaned with exclusion of air. This creates high-quality methane gas that can be used as an energy source for heating or to generate electricity. In this way, up to 30% of the operational gas consumption can be substituted and the natural gas consumption can be drastically reduced. In this way, the systems enable the treated wastewater to be reused and thus to save fresh water. In this way, responsibility for the use of valuable resources is assumed in every respect, creating sustainable action and awareness of our environment. The technology for anaerobic wastewater treatment comes in a compact and modular design and is an economical solution, especially for small and medium-sized companies.
A strong team, which we are constantly expanding, is required to achieve our corporate goals. In this way, we will create many new jobs here in the region over the next few years, reports the management. Furthermore, we are currently developing a QM management system in order to be certified according to ISO 9001 this year. Because our products and services should meet the high quality demands of our customers.
The company was awarded the BIOGAS Innovation Prize in 2014. The FlexBio technology was also awarded the "Seal of Excellence" by the European Union.