Certified for super quality management – ISO 9001
We voluntarily underwent a quality audit and are now officially certified according to DIN EN ISO 9001:2015. The award recognizes quality management in various areas of the company. In addition to internal processes, this includes above all a structured approach to customer inquiries. The standard can be categorized into four areas in which we now excel: Corporate Planning, Implementation, Control and Continuous Improvement. We would like to continue to develop together with our employees in the future.
New opening and occupation of the new production hall in Einbeck
In June Flexbio Technologie GmbH moved into the newly built production hall with administration wing in Einbeck, in Otto-Hahn-Straße 7a with around 35 employees. The Göttingen, Gittelde and Northeim locations are merged here. The newly built building comprises a total of 900 m² of production space and 450 m² of administration. Overall, the production hall has enough capacity for around 100 wastewater treatment plants per year. The choice of Einbeck as the location was a conscious decision, as the management has its roots here. The opening of the location is an important step into the future for FlexBio. As an innovative green tech company, they focus on growth and global market leadership in autonomous solutions for water purification and water recycling. The patented FlexBio process enables many companies to use wastewater and the energy it contains sustainably.
A strong team, which we are constantly expanding, is required to achieve our corporate goals. In the next few years we will create many new jobs here in the Einbeck region, reports the management. We are also looking forward to our junior staff. As a recognized IHK training company, we are taking on four trainees this year.
Total financing by investors and the HCM
With this new financing scope, the company is now able to address and implement previously unused product potential. The company is therefore very well positioned for future challenges.
You can find the overall funding video here.
The first wastewater treatment plant
started operations in a brewery.
As a result of the growth, the brewery produces ever larger amounts of wastewater, which is to be viewed as problematic in the small town, because even its own sewage treatment plant has reached its capacity limits. When looking for a solution, the rural brewery found FlexBio Technologie GmbH as a competent partner. The collaboration has proven to be very profitable. The brewery considers the modular and flexible construction, which can be expanded at any time, to be a great advantage.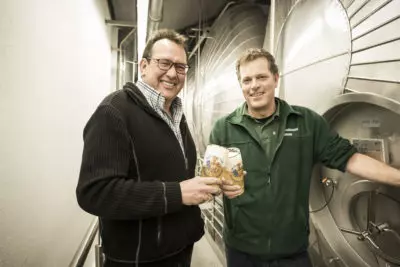 Container system
Dimension: 1x 40 ft container
Power: 200 m³ / d
COD feed: 2,500 mg / l
COD discharge: 600 mg / l
Gas production: 80 kW
Methane concentration: 90%
The first anaerobic wastewater treatment started in the food industry (delicatessen).
Taking into account the different framework conditions in the food industry, we have developed a sustainable solution for wastewater treatment. Our FlexBio® process enables anaerobic wastewater treatment to be used. Both a pretreatment to avoid "heavy pollution charges" and a full clarification for direct discharge are implemented with the process. This not only improves the CO2 balance, but also generates high-quality energy (biomethane).
Wastewater treatment (food processing)
Sector: food / delicatessen
Development / planning / construction / supervision
Anaerobic treatment in 3 x 40ft HC containers
Biogas storage in 2 x 40ft HC containers
Compact container system:
Type FLEXBIO-AF-100-HC
Treatment capacity:
140000 m 3 / a
Wastewater pollution:
COD (organic): 5000 – 10000 mg/l
Quality of the purified water:
Indirect introduction

COD (organic): < 1400 mg/l

Biogas production:
45 m 3 / h, methane concentration 60%

Energy production: approx. 300 kW

Place:
Germany; Kaltenkirchen
Completion:
2018
Introduction of the first demonstration system
The mobile demonstration system can be used in the Food and beverage industry such as delicatessen production, potato processing, confectionery production or Breweries as well as in the field of Landfill leachate r can be used.
| | |
| --- | --- |
| Treatment capacity: | 4000l / d |
| | |
| --- | --- |
| Biogas production: | 0.25 m 3 /H |
International delivery to China
FlexBio Technologie GmbH has been represented in China by a partner company since 2017. The innovative technology enables a resource-saving and safe wastewater treatment. In the first step, an environmental analysis laboratory and a technical center will be set up. The equipment and test systems are supplied by FlexBio and looked after together with the staff on site. The laboratory and technical center is currently investigating the purification of leachate from waste treatment. The construction of a large-scale treatment plant by FlexBio Technologie GmbH and its partner company JC Environmental Services Co, LTD in Tianjin is already planned for 2018.
Market study first phase, eligibility for Horizon 2020
The first phase promotes excellent science in Europe and supports, among other things, the best SMEs in Europe in all phases of their scientific careers. These are usually coordination and support measures that help improve the framework conditions for SMEs. In addition, in order to provide companies with targeted support in bringing their innovations to market more quickly, a number of EU instruments for direct innovation promotion were introduced in Horizon 2020.
The first wastewater treatment plant
started operations in agriculture.
Wastewater / seepage water treatment in biogas plants
Field: agriculture
Development / planning / construction / supervision
Anaerobic and aerobic treatment in 20ft containers
Treatment capacity: 4000 l/d
Biogas production: 0,25m³/h
Surface water management on biogas plants
Decentralized utilization of organically polluted surface water on biogas plants by means of the FLEXBIO process – Scientific support
The first practical use of the FlexBio process was scientifically supported by the HAWK University of Applied Sciences, NEUTec department. For this purpose, the FLEXBIO process, which has been investigated on a pilot plant scale, is to be installed and operated for the first time in a biogas plant to treat contaminated rainwater. The first reference system at BioEnergie Bad Gandersheim is used to put the new technology into practice. The investigations enable an orderly implementation of the procedure taking into account the framework conditions as well as an optimization of the operation with the aim of the safe compliance with limit values. Taking into account the knowledge gained in the project, an economic feasibility study is carried out in order to better estimate the economic prospects of the process for the future.
FlexBio Technologie GmbH was founded in 2014 as a spin-off from the HAWK University in Göttingen. Our corporate philosophy is to provide our customers with the best possible support from the first idea to the turnkey system. The company FlexBio Technologie offers a modular system for the fully biological treatment of organically polluted industrial, commercial and agricultural wastewater using a specially developed process.
The first research activities and investigations with a fixed bed reactor took place in 2009. The first pilot system was tested in 2011.